Quality Management
ISO9001
Quality Policy
We, Yasojima Proceed Co., Ltd., lay out the following policy with the aim of realizing highly-efficient high-mix optimum-volume production and contributing to society while maintaining high quality by leveraging digital technology so as to achieve a wide variety of customer satisfaction:
we shall make a concerted effort with all our employees to fulfill customers' needs and improve customer satisfaction;
we shall set quality objectives, assess the achievement thereof and review them on a regular basis;
we shall understand and comply with requirements of relevant laws and regulations;
we shall inform all our employees of our quality policy so that they can understand and act on it; and
we shall review our quality policy on a regular basis to ensure continuous improvement of the quality management system.
ISO9001: 2008
Date of Certification: May 13, 2014
Registration No.: QMS50263
Registration Agency: NQA (UKAS Certification)
Scope: Manufacture synthetic resin parts for semiconductor & LCD manufacturing equipment and general industrial machines
Registered Business Offices: Headquarter, Sendai Branch, Tokyo Branch, Yokohama Branch, Nagoya Branch, Shiga Branch, Osaka Branch, Fukuoka Branch, Next MED R&D Office, Sendai Factory, Shiga Factory, Osaka Factory, Kyushu Factory
Certificates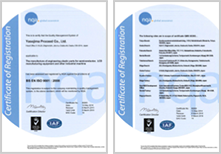 ---
ISO13485
Quality Policy
We shall aim at ultimate manufacturing through the fusion of digital and analogue technologies by constantly drawing fully upon the strength of cutting-edge 3D technology and machining technology, revolutionizing manufacturing trends, building solid partnerships with our customers and boosting customer satisfaction with a series of our services from development until product realization to the maximum possible level.
ISO13485: 2003
Date of Certification: March 10, 2009
Registration No.: QMS25305
Registration Agency: NQA (UKAS Certification)
Scope: Manufacture artificial joints, artificial bones, orthopedic surgical tools, blood transfusion equipment parts, surgical simulation and training models, compensating filters for particle beam therapy
Registered Business Offices: Yokohama Branch, Next MED R&D Office, Sendai Factory

Certificates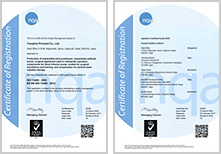 ---
Medical Equipment Manufacturing License
License No.: 04BZ200007
Name: Yasojima Proceed Co., Ltd.
Name of Manufacturing Plant: Sendai Factory, Yasojima Proceed Co., Ltd.
Address of Manufacturing Plant: 2-1-4 Kamisakuragi, Tomiya City, Miyagi Prefecture
Classification of License: Medical equipment General
Validity Period: From November 7, 2013 until November 6, 2018
Certificates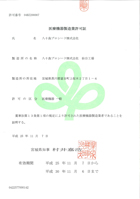 ---
MSJ4000 / Mitsubishi Heavy Industries, Ltd. Aerospace Division Quality Management System
MSJ4000
Approval No. : MHIY-3027
Name of the place of business : Yasojima Proceed Co., Ltd. Shiga Factory, Sendai Factory, Nagoya Branch
Applicable Specification: MSJ4000
Applicable standard and Requirement: AS / EN / JIS Q 9100: 2009
Scope: Manufacture and sell plastic aerospace parts.
Excluded Clauses: 7.3 Design & Development
First Approval Date: July 15, 2009
Certificates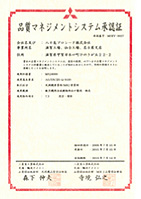 ---